Tybee MLK Juneteenth
17jun(jun 17)11:00 am19(jun 19)11:00 amTybee MLK JuneteenthFestival Celebration of Freedom, Unity and Honoring The Ancestors that paved away for a better and brighter future for all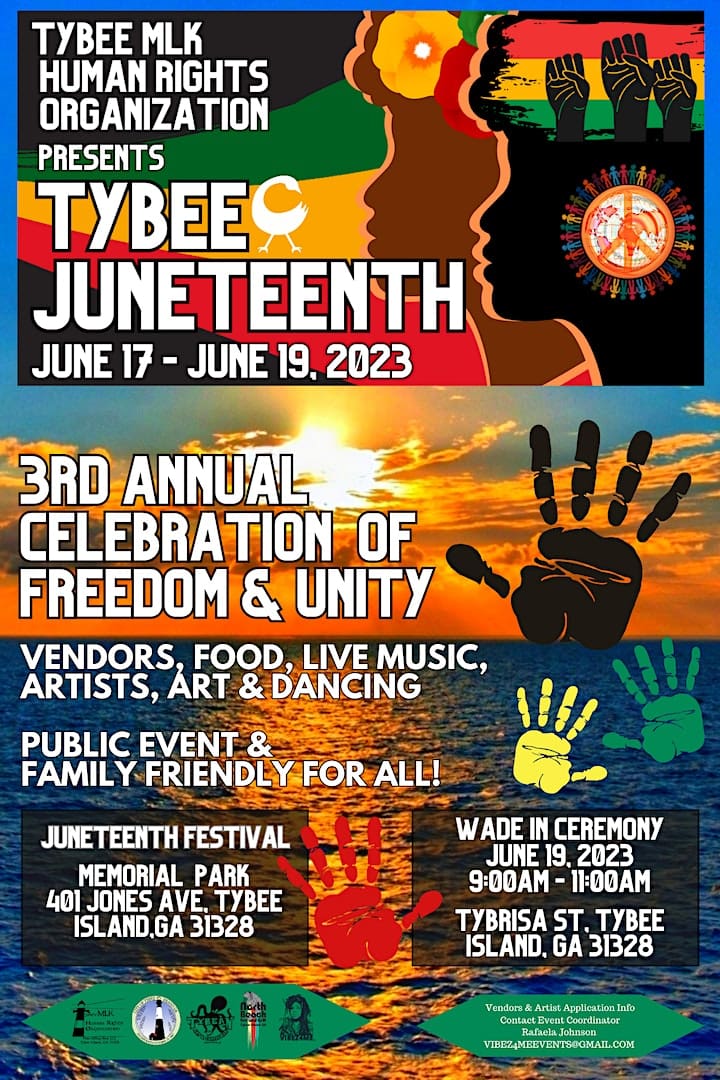 Event Details

Join Us In Celebrating Tybee MLK Human Right Organization 3rd Annual Juneteenth Festival on Tybee Island! Last year we had a blast! We are excited to do it again at memorial park on Tybee Island.

"Juneteenth is a federal holiday in the United States commemorating the emancipation of African-American slaves. It is also often observed for celebrating African-American culture. Originating in Galveston, Texas, it has been celebrated annually on June 19 in various parts of the United States since 1865."

The TybeeMLK Juneteenth Celebration will be held for two days and is a family friendly event for all. On June 19th there will also be a Wade In led by Patt Gunn on the Beach giving acknowledgment to our ancestors who came from Africa and the sacrifices they made. It is a way of giving back and honoring through cleansing, drumming and storytelling. This will take place at 9am on the pier.
Timeline:
Saturday, June 17, 2023
11:00am – 7:00pm
Sunday, June 18, 2023
11:00am – 7:00pm
Location:
Memorial Park
401 Jones Ave,
Tybee Island, Ga 31328
*Wade In Ceremony:
Monday, June 19, 2023
9:00am – 11:00am
Location:
Tybrisa St. Tybee Island, Ga 31328
What to Expect:
Vendors, Food Trucks, Bands, Spoken Word Poets, Storytelling, Kids Arts & Crafts Table, Drummers, Jazz, Soul, Live DJ bringing Reggae, Soca, and Afro Beat Vibes!
Tybee MLK Human Rights Organization is a Non-profit Organization, that focus on educating people on the importance of history, being a voice to the enslaved, mistreatment of mankind, standing up for civil rights and justice for all, bringing peace and unity amongst communities. Tybee MLK makes it their duty to provide educationally events, acknowledging, celebrating and honoring the ancestors that came before us, who has paved away for us today.
Time

17 (Saturday) 11:00 am - 19 (Monday) 11:00 am