Teaching Challenging Histories in Georgia
27jun9:00 am5:00 pmTeaching Challenging Histories in GeorgiaCalling Georgia educators! Join us for a full-day, in-person professional development session in Savannah on teaching challenging histories.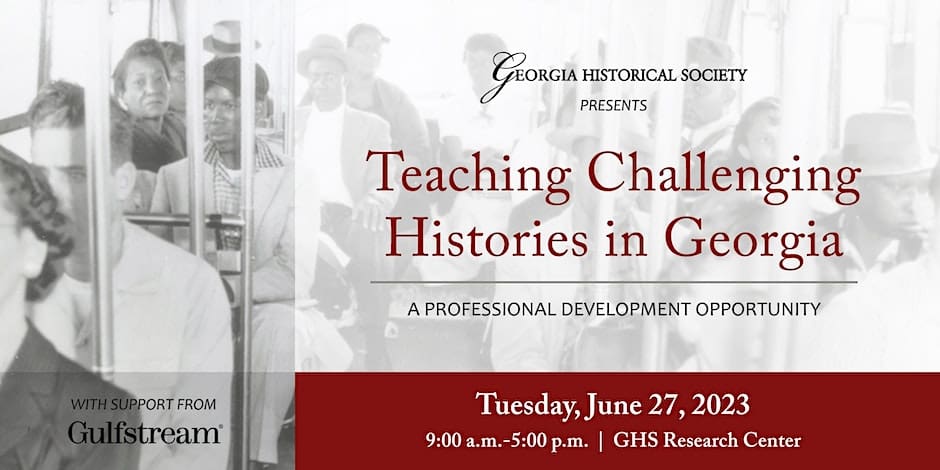 Event Details

The Georgia Historical Society (GHS) hosts a full-day, in-person professional development program for K-12 Georgia teachers at the GHS Research Center in Savannah, Georgia.

Designed with a focus on participants as both learners and educators, the session will blend historical content and primary source analysis with strategies for encouraging constructive conversations in the classroom.

Participation in this one-day event will provide teachers with a fuller picture of our state and national histories, making them better equipped to address the many challenging questions that arise when studying Georgia and American history.

As an exciting addition to this year's program, participants will learn from and engage with Stan Deaton, Ph.D., the Dr. Elaine B. Andrews Distinguished Historian with the Georgia Historical Society and popular host of Today in Georgia History.

Through special presentations Dr. Deaton will explore the myth and impact of the Lost Cause as it developed in the late 19th and early 20th centuries and its continued influence on education over the last one hundred years. This program is supported by Gulfstream.

All participants will receive session materials aligned to the Georgia Standards of Excellence for use in their classrooms, including an instructional guide with classroom strategies and high-resolution scans of primary source materials.

Participants will receive documentation confirming completion of eight hours of professional development to submit to their administration, county, or district.

A registration fee of $20.00 is required, which will cover lunch. Spaces are limited. The registration fee is non-refundable.

GHS is offering a limited number of scholarships to participants from outside of the Savannah area to attend this year's program. For more information, please email GHS Director of Community Partnerships and Special Projects, Dr. Anastacia Scott, at ascott@georgiahistory.com. In the body of the email please indicate where you are traveling from and describe your need for the award to offset your travel and lodging expenses. Please also explain your interest in this professional development opportunity and how it will help you reach your classroom goals, and improve your ability to engage with complex historical topics.

This professional opportunity is supported in part by Gulfstream Aerospace.
Time

(Tuesday) 9:00 am - 5:00 pm
Location

Georgia Historical Society

501 Whitaker Street
Organizer
webmaster@georgiahistory.com
501 Whitaker St Savannah, Georgia