Savannah Official Halloween Bar Crawl
28oct4:00 pmSavannah Official Halloween Bar CrawlSavannah are you ready for a spooktacular time? Calling all creepy crawls time for boos and beers!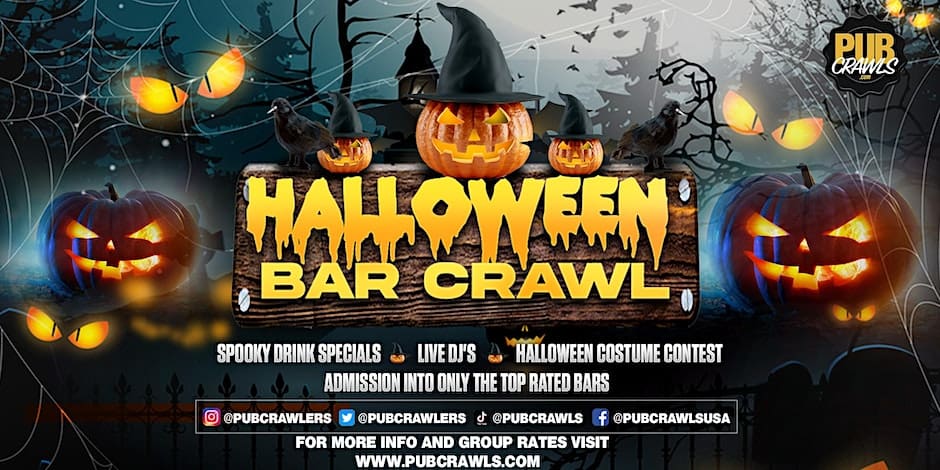 Event Details
Free T-Shirt
(while Supplies Last)
COSTUME CONTEST – $2,000 IN PRIZES
$2,000 will be given away at Savannah's largest COSTUME CONTEST!
Savannah Official Halloween
Savannah is a city full of history and culture, and it is no surprise that it is home to some of the best Halloween bar crawls in the country. This year's Official Savannah Halloween Bar Crawl and we will roam the streets causing a Nightmare on Congress Street. It is a night of fun, costumes, and drinks, zombies, ghosts and creepy crawlers alike.
This Halloween make your way through the city, visiting Savannah's best bars. At each bar, you can enjoy a variety of drinks like themed specials and crazy deals. This will be a fright night to remember as we will all enjoy the live music and trick or treats.
Savannah's Official Halloween Bar Crawl is a great way to experience the city and its awesome nightlife. You can explore the city's streets, as well as its unique bars and restaurants. You can also enjoy the company of others who love Halloween as much as we do, because this bar crawl is a great way to meet new people and make new friends.
It is a time for people to come together and celebrate the spooky season with baddest and sexiest costumes Savannah has ever seen this 2023. This Halloween event is usually held throughout Congress Street and its surrounding spooky buildings in which each will be in the Halloween Spirit.
The event usually starts off with a costume contest where you had better bring your originality, because we are giving away $2000 dollars and you may just take the prize. The night continues with live music from local bands and DJs, great drinks and great times.
If you don't make it out to this nightmare on Congress Street in Savannah this year, you may be in grave danger! Grab your tickets quick to one of the biggest events in Savannah because don't say we didn't warn you when the zombies come after you. Join in on the fun October 28th, 2023, when we turn the streets of Savannah into haunted trails.
Location

Various locations