12decAll Day08marPeter E. Roberts: "30 Days of Arteests" in the Drive Thru Art Box at Green Truck Pub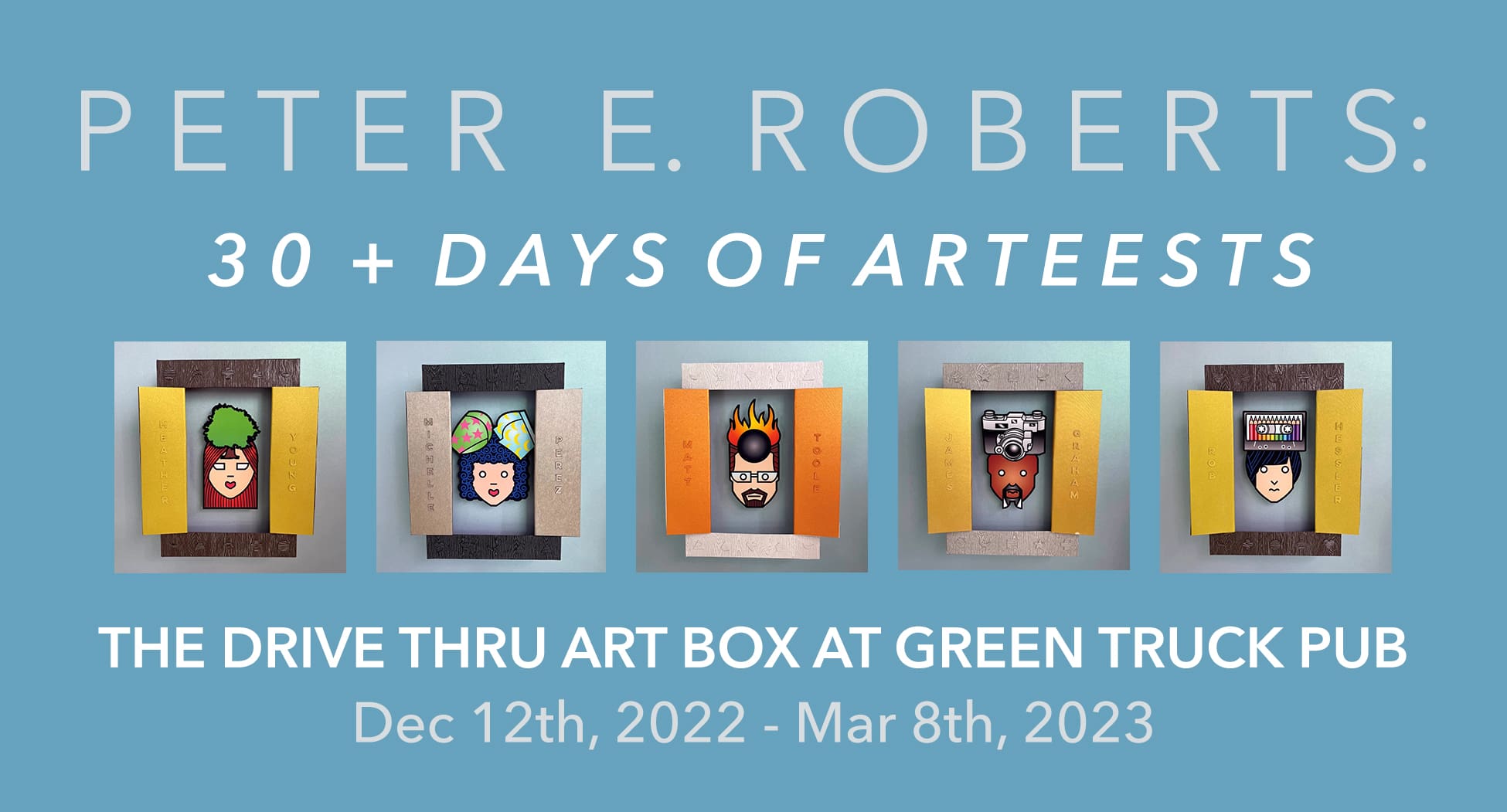 Event Details

Sulfur Studios is pleased to present 30 Days of Arteests by Peter E. Roberts in the Drive Thru Art Box at Green Truck Neighborhood Pub from December 12th, 2022 – March 8th, 2023.

About the Artist: Peter E. Roberts
Peter E. Roberts grew up amidst impromptu gatherings of neighbors, extended family and cronies from the Manhattan commuter train. The ribald, oft-repeated stories from those gatherings led to an early fascination with potentially explosive social situations.

Exposure to a great aunt's personal cache of Mardi Gras Krewe invitations from the 1930s cemented a lurid fascination of how the celebrated night began, why it ended and who were the guests that may have behaved "badly". This innate love of storytelling led to a BFA in Video from Savannah College of Art and Design and over a decade in television advertising and production.

Concurrently producing invitations, proclamations and various paperama led to several GraphicDesignUSA Awards and the opening of Blackbird Press.​ When not serving as Gallery Director of Location Gallery in Savannah, Georgia he enjoys bringing his "Headcases" series of examinations to other strange locales.

About the Project
This very special edition of Roberts' well-known "Headcases" series features some of Savannah's most beloved local artists. A new paper-cut portrait will be revealed daily. Peter E. Roberts' project in the Drive Thru Art Box will be on display from December 12th, 2022 – March 8th, 2023 and can be seen any time of day or night. There will be a Happy Hour Artist Talk & Reception at Green Truck Pub on Friday, January 13th from 6 – 8 PM.
Time

December 12 (Monday) - March 8 (Wednesday)
Location

Green Truck Pub

2430 Habersham St, Savannah, Georgia 31401