Wicked Wolverine Halloween Bar Crawl
28oct5:00 pm11:00 pmWicked Wolverine Halloween Bar CrawlJoin us for an unforgettable Halloween Bar Car adventure, filled with wicked brews and spine-chilling cocktails!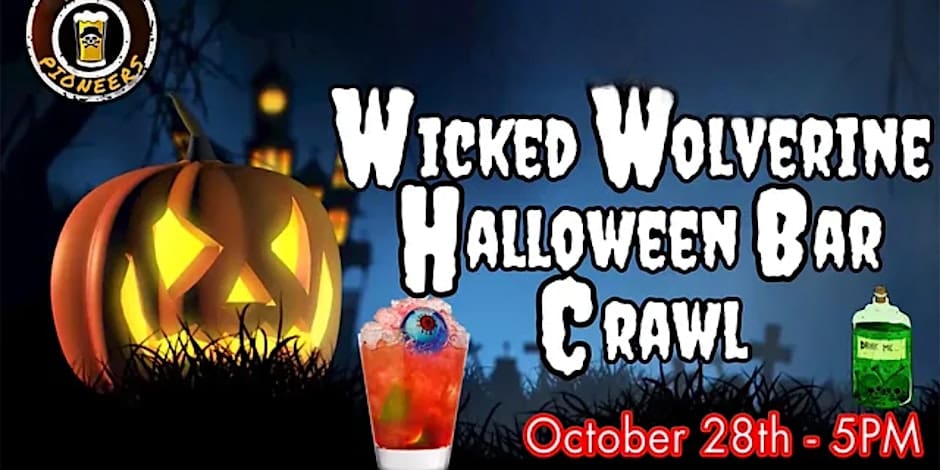 Event Details

Pub Pioneers invites you to an unforgettable night of ghoulish revelry. Get ready for an eerie adventure as you embark on our Halloween Bar Crawl, where the spirits roam freely, and the fun never ceases. Join us on October 28th, from 5:00 PM to 11:00 PM, for an otherworldly experience you won't soon forget.

To kick off this spine-tingling journey, check in at our designated location between 5:00 PM and 7:00 PM. There, you'll receive your exclusive wristband, the key to unlocking a night filled with frights and delights. Alongside your wristband, you'll also be handed a cutting-edge digital map of the crawl, allowing you to navigate the haunted hotspots at your own leisure.

Prepare to be spellbound by the extraordinary atmosphere of our participating venues. Immerse yourself in the macabre ambiance, where haunted histories intertwine with contemporary charm. Savor the spine-chilling experience as you explore a selection of the city's most iconic bars and pubs, each offering exclusive food and drink specials tailored to tantalize your taste buds.

Throughout the night, you'll encounter a diverse array of fellow thrill-seekers, all donning their most captivating costumes. Engage in conversations, share your haunting tales, and make new connections with kindred spirits on this bewitching evening.

Whether you're a seasoned party-goer or a timid traveler, our Halloween Bar Crawl has something for everyone. Indulge in the magical concoctions crafted by master mixologists, sample delectable treats that are devilishly delicious, and revel in the electrifying energy that permeates the night.

Remember, the clock is ticking, and the witching hour approaches. Don't miss your chance to join the Wicked Wolverine: Halloween Bar Crawl. Reserve your spot today and prepare to be transported into a realm where the line between the living and the dead blurs, and a night of hair-raising thrills awaits.
Time

(Saturday) 5:00 pm - 11:00 pm
Location

Various locations