Speech Generating Devices for Adults
02jun10:00 am11:30 amSpeech Generating Devices for AdultsPam Thompson, M.Ed., CCC-SLP will join us for a discussion and demonstration of speech generating devices, ideal for many stroke survivors.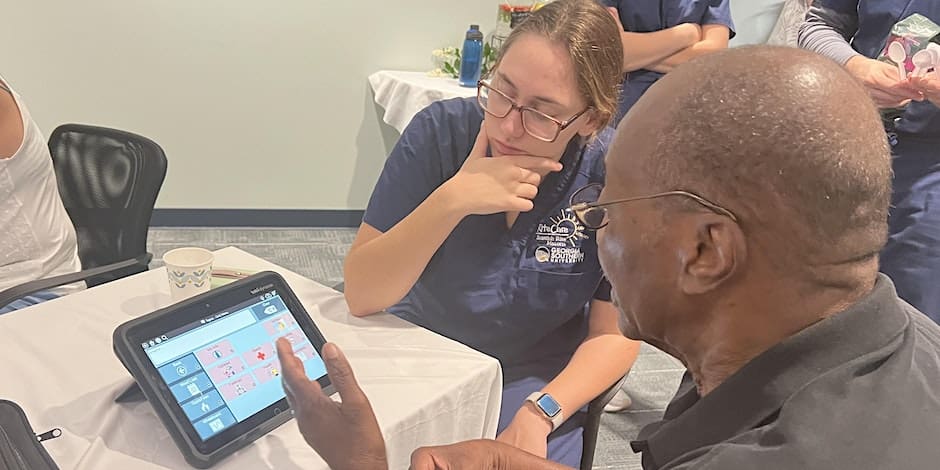 Event Details

The "Speak Easy" support group for survivors of stroke or TBI is glad to welcome Pam Thompson for a demonstration of the Tobbi Dynavox and Lingraphica speech generating devices. See the devices and have an opportunity to discuss each. Attendance is free, but space is limited.

Join us at the Savannah Speech & Hearing Center, 5414 Skidaway Road Savannah, GA 31404 on Friday, June 2nd from 10am – 11:30am. Ample free parking on site.

About the "Speak Easy" ~ Open to survivors of stroke, traumatic brain injury or other conditions affecting abilities to verbally communicate. Caregivers and family are welcome at these free meetings. Enjoy fellowship, practice speaking, writing and reading through discussion, games, and art. Meeting each Friday from 10am until 11:30am in person or via video call link.

This support group has met at Savannah Speech & Hearing since the 1980's, creating a safe place to talk freely about challenges and issues without being judged. We recognize and respect that every survivor is unique in their situation, ability to cope and goals.

About Pamela Thompson, M.Ed., CCC-SLP ~ Pamela received both her undergraduate and graduate degrees in Speech Pathology from the University of Georgia. She returns to join this talented group of professionals at Savannah Speech and Hearing Center where she began her career in 1982. Pamela has had both adult and pediatric experience in acute and long-term care, home health, outpatient rehabilitation and early intervention.

Having spent 23 years in private practice, Pamela has specific areas of experience in neurogenic communication disorders and augmentative communication. She also currently serves as a clinical instructor at the Rite Care Center supervising graduate students in the Communication Disorders Department at Georgia Southern University. Pamela is licensed in the state of Georgia and is certified by the American Speech Language and Hearing Association.
Time

(Friday) 10:00 am - 11:30 am