Southern Culture on the Skids
17jan8:00 pm11:00 pmSouthern Culture on the SkidsWith Special Guest the Intracoastal Playboys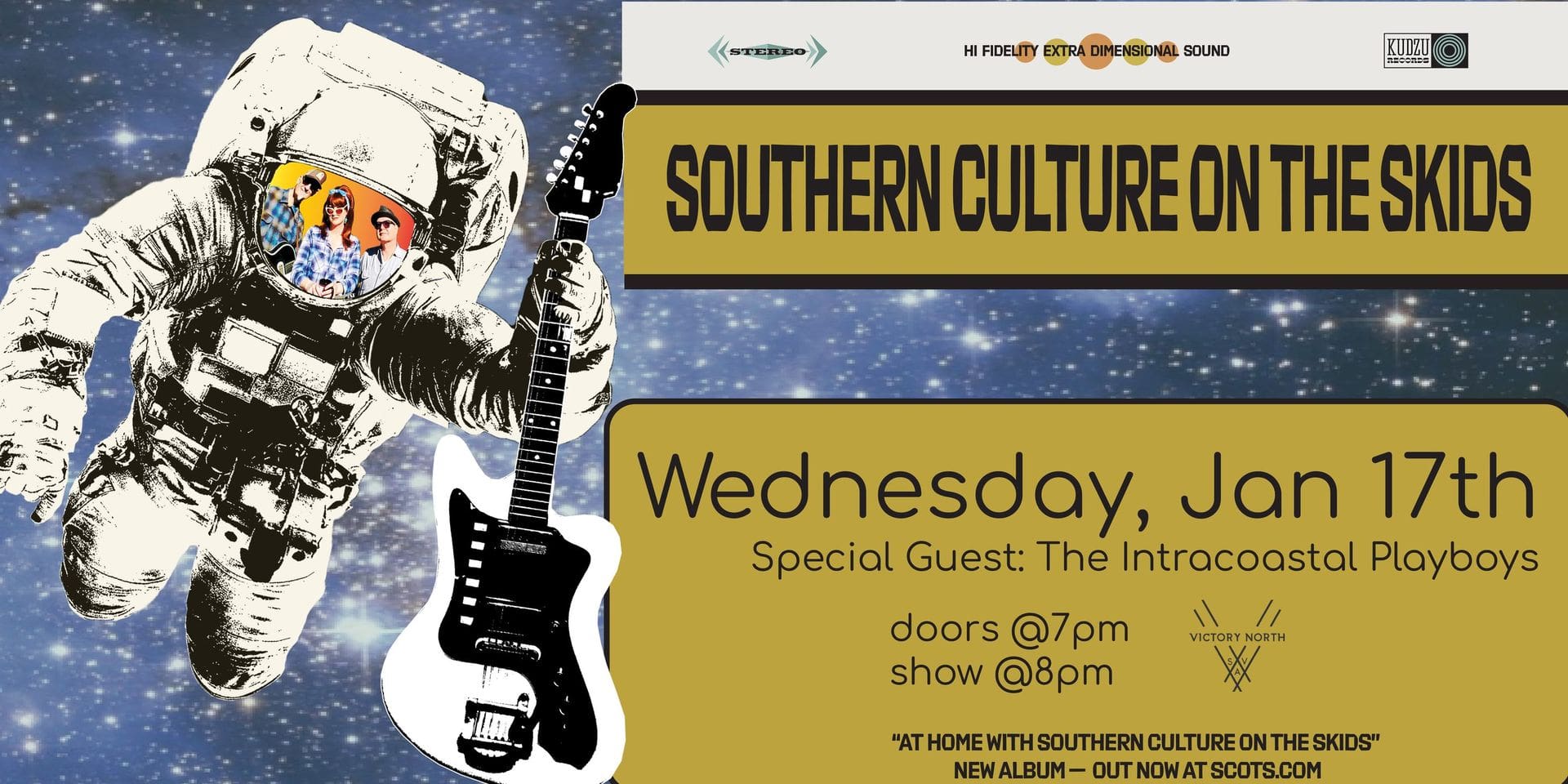 Event Details

SCOTS BIO

Southern Culture On The Skids has been consistently recording and touring around the world since 1983. The band (Rick Miller – guitar and vocals, Mary Huff – bass and vocals, Dave Hartman – drums) has been playing together for over 30 years. Their musical journey has taken them from all-night North Carolina house parties to late night TV talk shows (Conan O'Brien, The Tonight Show), from performing at the base of Mt. Fuji in Japan to rockin' out for the inmates at North Carolina correctional facilities. They've shared a stage with many musical luminaries including Link Wray, Loretta Lynn, Hasil Adkins and Patti Smith. Their music has been featured in movies and TV, parodied by Weird Al, and used to sell everything from diamonds to pork sausage. In 2014 the band was honored by the Southern Folklife Collection at the University of North Carolina Chapel Hill with an exhibition featuring their music and cultural contributions. Their legendary live shows are a testament to the therapeutic powers of foot-stomping, butt-shaking rock and roll and what Rolling Stone dubbed "a hell raising rock and roll party."

At Home with Southern Culture on the Skids is the latest full length album from the band and was released in March of 2021. It was recorded during the stay at home period of the pandemic when the band was at home and not touring. The album consists of 11 tracks recorded and mixed in Rick Miller's living room with some additional tracks recorded at his studio, The Kudzu Ranch.

The first radio single off the album is "Run Baby Run"—a rocking number with deep garage roots. SCOTS bassist Mary Huff provides an urgent vocal while the band pulls back the throttle on a full race fuzz fest—cause she's gotta to go fast! Run Baby Run!

The other songs on the album are a combination of the band's unique mix of musical genres: rock and roll, surf, folk and country—all a bit off-center, what Rick proudly calls "our wobbly Americana". Rick goes on, "We put a few more acoustic guitars on this one, as you would expect if you recorded in your living room, but it still rocks like SCOTS. So put your headphones on, get in your favorite chair/sofa/recliner, put on "At Home With" and let's hang out for a while."

THE INTRACOASTAL PLAYBOYS BIO

*This biography was written by A.I. 80% of it is 100% false.

The Intracoastal Playboys are a Savannah, Georgia based classic country music cover band. The band focuses on music from the golden age of country music, paying tribute to artists such as Buck Owens, George Jones, Loretta Lynn, Waylon Jennings, Johnny Paycheck, Dolly Parton andmany more. Formed in 2022 by Andrew Ripley (bass/vocals), Tom Worley (drums/vocals), Matthew Garappolo (rhythm guitar/vocals), Ryan Schimmenti (acoustic guitar/vocals), and Kevin Rose (lead guitar), the band has grown to incorporate additional Savannah mainstay musicians like Igor Fiskman (pedal steel), Phil Price (piano), and Mandy Madson (vocals).

The band's dedication to the genre includes not only the music of the time but also looking thepart. The Intracoastal Playboys are often clad in cowboy hats, embroidered shirts and jackets, and various other clothes of the period. This dedication to authenticity has helped them to become one of the most popular classic country bands in Savannah.

The Intracoastal Playboys have performed at a variety of venues in Savannah, including The Olde Pink House, The Grey, and The Distillery. They have also performed at festivals such as Live Aid, The Savannah Music Festival, Woodstock 99 and The Tybee Island Pirate Festival. The band has been praised for their high energy performances and their ability to connect with audiences.

If you are a fan of classic country music, then you should definitely check out The Intracoastal Playboys. They are a great band with a lot of talent. You won't be disappointed.
Time

(Wednesday) 8:00 pm - 11:00 pm
Organizer
info@victorynorthsavannah.com
2603 Whitaker Street Savannah, GA 31401