Service Provider Workshop with Phillip Scroggin of Sol Insights
31may11:00 am1:00 pmService Provider Workshop with Phillip Scroggin of Sol InsightsHosted by the Small Business Assistance Corporation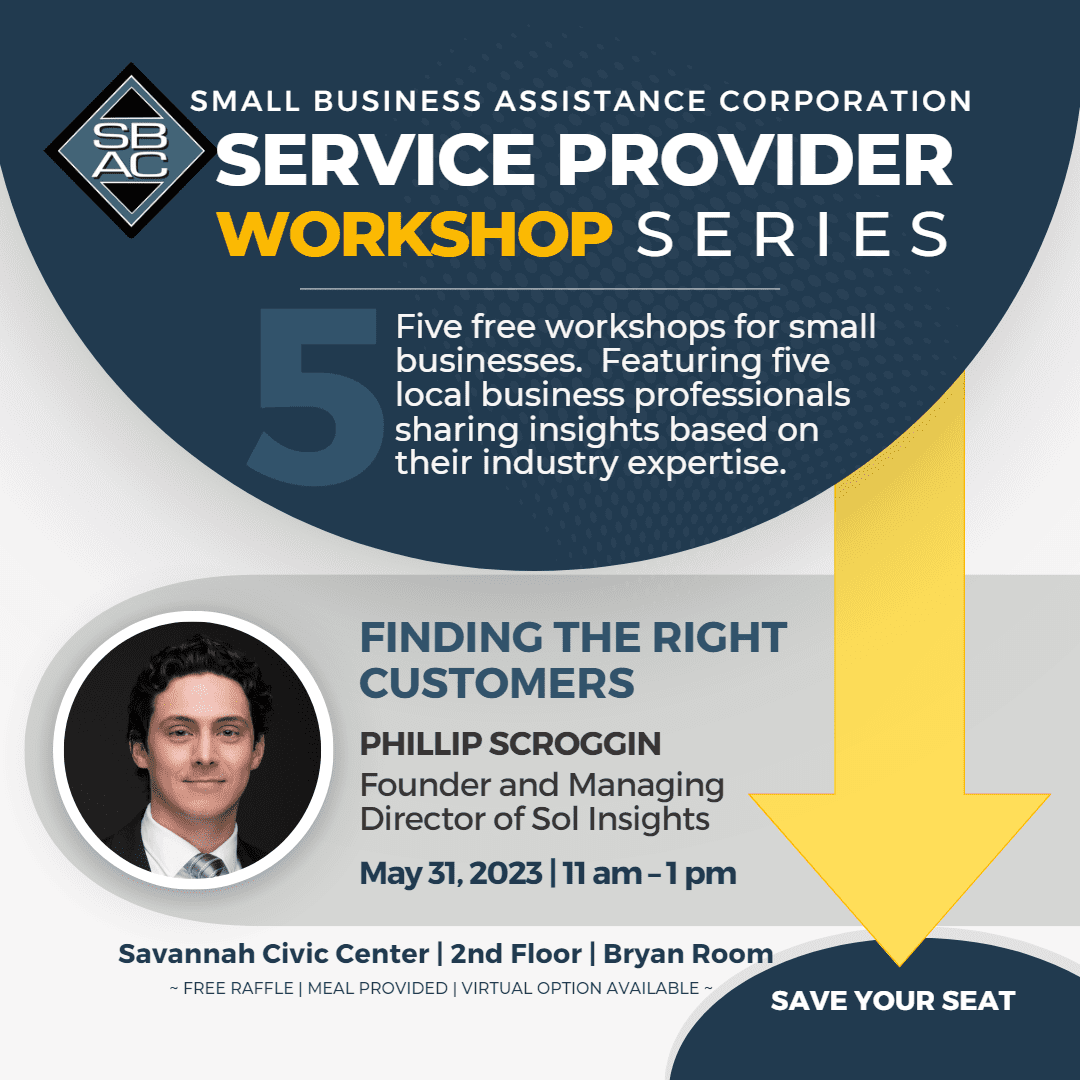 Event Details

Discover who the right clients are for your business. SBAC will feature Phillip Scroggins, of Sol Insights, the first of five local expert speakers during our free Service Provider Workshop Series on May 31st.

Registration is free and available for online viewing and in-person attendance. Those who attend the workshop in person will be entered into a raffle to win FREE one-on-one services with the speaker of the day.

Limited seating register for this and to event now!
_____________________________________________________

The Small Business Assistance Corporation (SBAC) is hosting a series of FREE business educational workshops through participants in their Service Provider Program. Each speaker will share business insights based on their industry expertise.

The workshop series is a 5 week-series held every Wednesday at the Savannah Civic Center on the 2nd Floor in the Bryan Room. Free breakfast or lunch will be provided based on the workshop time.

WORKSHOP SERIES

• May 31, 2023 – 11am – 1pm
Finding the Right Customers
Phillip Scroggin, Founder and Managing Director of Sol Insights
Identify your targeted or ideal customer base. See how creating value for your best customers leads to business success.

• June 7, 2023 – 9am – 11am
Adding Certifications to Your Business
Arneja Riley, President and CEO of A. Riley Consultants
Learn how to obtain a business certification if you are a minority, woman, and/or veteran-owned business. See how adding certifications to your business can lead to extra benefits and opportunities.

• June 14, 2023 – 11am – 1pm
Expanding Your Personal Brand
Victoria Baylor, Founder of Victoria Baylor Leadership & OD Solutions
Are you maximizing and leveraging your personal brand to make you stand out in your industry? Learn how to leverage your greatest asset for your business – YOU!

• June 21, 2023 – 11am – 1pm
Creating a Well-Designed Website
Federico Cali, Principal of Blue Edge Business Solutions
Learn how to build a business website that converts visitors into customers. Understand what attracts viewers to keep them engaged and identify opportunities for website improvements.

• June 28, 2023 – 9am – 11am
Overcoming Business Challenges
Gary Brand, Founder and President of Brand Ferland Advisors
Entrepreneurship may start your business, but enjoyment will continue it. Learn how to overcome challenges in order to continue enjoying your business.
Time

(Wednesday) 11:00 am - 1:00 pm