Savannah Official Pride Bar Crawl
03jun4:00 pm11:59 pmSavannah Official Pride Bar CrawlIt's time for the most colorful crawl in Savannah, let celebrate Pride together!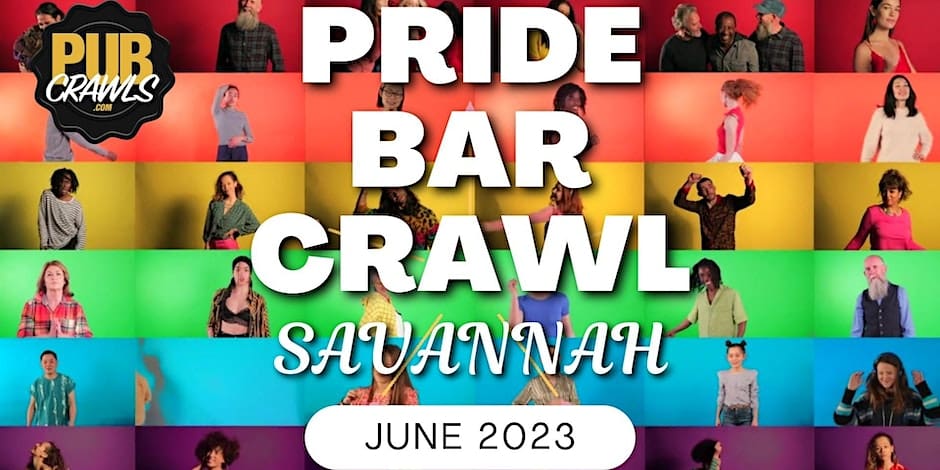 Event Details

Savannah Pride Bar Crawl is an event that celebrates the LGBTQ+ community in Savannah, and around the world. It is an opportunity for people to come together, show their pride, and enjoy a night out with friends.

Crawlers start in the heart of Savannah and make their way through the night. Each bar will have its own unique atmosphere and drink specials to enjoy the event is open to everyone, regardless of gender or sexual orientation. We love everyone.

Savannah Pride Crawl is a safe space for people to express themselves and have a good time. The event is also a great way to meet new people and make new connections. The bar crawl is organized by pubcrawls, and works with local organizations to promote acceptance and understanding of the LGBTQ+ community.

The Savannah Pride Bar Crawl is a great way to show your support for the LGBTQ+ community. Don't miss out when there is live music, food, and tons of great times.

Savannah Pride is a chance for the LGBTQ+ community to come together and celebrate their identities. It is also a chance for allies to show their support and acceptance of the LGBTQ+ community.

Our Official Savannah Pride Bar Crawl in is a must-do experience for any LGBTQ+ traveler or local looking to celebrate their pride in a fun and social way. Savannah is a charming and historic city that has become increasingly inclusive and welcoming to the LGBTQ+ community over the years, making it an ideal destination for a pride-themed bar crawl.

The event is a celebration of diversity and inclusion, and it is an opportunity for everyone to come together. The Official Savannah Pride Bar Crawl offers a chance to connect with like-minded people and celebrate the freedom to be oneself. So, put on your rainbow gear, grab a few friends, and get ready for a night of celebration in the charming and vibrant city of Savannah.
What to Expect
Participants crawl at their own pace instead of all together in one huge group. Once crawlers pickup their scorecards at the starting bar, they then travel to all the bars listed enjoying drink specials and getting their scorecard marked at each bar. After visiting all the bars on the list, crawlers join us to grab you free T-Shirt. Complete your scorecard by visiting each participating bars and be one of the first 200 crawlers to receive a t-shirt. As you enter the venue, the doorman or bartender will "mark" their respective bar's section of your scorecard. You do not have to purchase a drink to have your scorecard marked.
Time

(Saturday) 4:00 pm - 11:59 pm
Location

Various locations