Savannah Official Christmas Bar Crawl
09dec4:00 pmSavannah Official Christmas Bar CrawlMerry Christmas Savannah, are you ready to pull out the Ugly Sweaters and hit the 12 bars of Christmas!?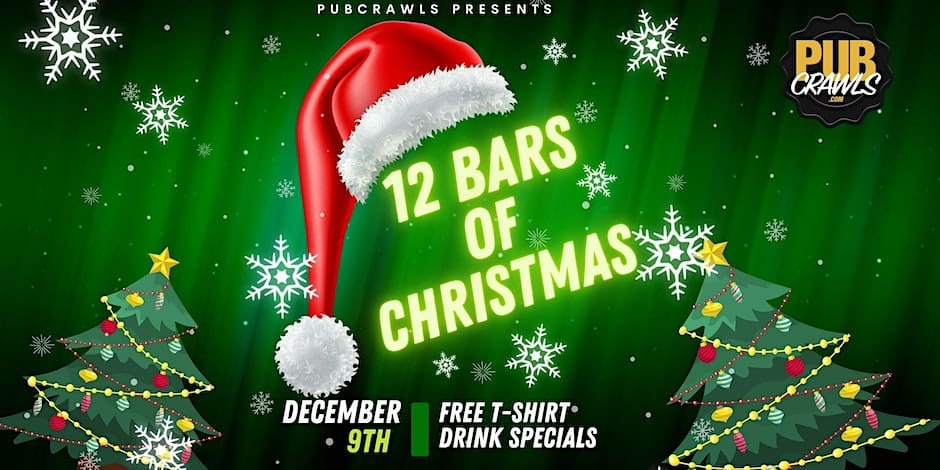 Event Details

Savannah tis the season to be merry and we are back with a wonderful Christmas bar crawl for you. It is a night of fun and exploration for those who enjoy the nightlife and want to explore the city's best bars and pubs.

The event is held on December 9th, 2023, when we pull out the ugly sweaters and Christmas lights because we are getting lit like a tree this winter. Christmas crawlers will start at one of the best bars in Savannah, and then make their way through the city, visiting each one in turn.

The event is set up to turn Savannah into a winter wonderland, so let's all have fun exploring the city's nightlife. At each bar, guests will be able to try some of the best specials in town, as well as enjoy live music and entertainment. If you're looking to be social then have no fear, our 12 bars of Christmas bar crawl is a great way to meet new people and make new friends.

The official Savannah Christmas Bar Crawl is also a great way to explore the city, Savannah is a beautiful city that is known for its rich history and culture. Come along with us as we take on the snowball fights and mistletoe.

Every year, the city of Savannah celebrates Christmas with a special event that brings together locals and visitors alike. So, grab your Christmas boots and Santa suits, because you won't want to miss this Savannah Christmas bar crawl.

The streets of Savannah will be filled with the sounds of Christmas music, carolers, and the smell of freshly baked cookies. If you miss out on this bar crawl you may just have coal in your stocking, cus you definitely will be on the naughty list.

The Savannah Christmas it is a time to get into the holiday spirit and to experience the beauty and winter of Savannah. Join us on the twelve bars of Christmas if you have been good this year, we have a ton of presents waiting for you, see you soon Savannah!
Location

Various locations