Savannah Happy Hour Halloween Weekend Bar Crawl
21oct5:00 pm11:00 pmSavannah Happy Hour Halloween Weekend Bar CrawlHappy Halloween Hangover! We'll Have a Spooky Good Time so grab your best Halloween fit and lets trick or treat together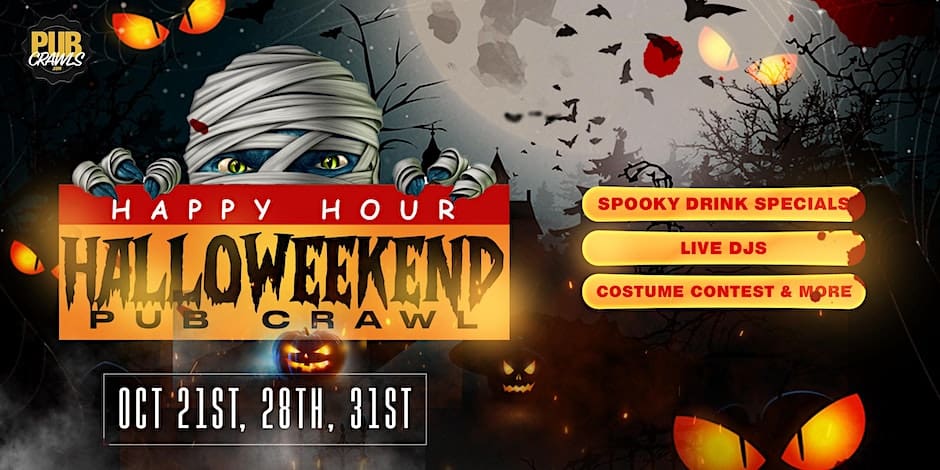 Event Details
Happy Hour Halloween Bar Crawl Savannah 🎃
Get ready for an exhilarating Halloween celebration like no other! Join us on Saturday, October 21st, 2023, for the Happy Hour Halloween Weekend Bar Crawl, a thrilling event that combines the best of Halloween festivities with the excitement of bar crawling. Gather your friends and prepare for an unforgettable night filled with laughter, costumes, and endless fun.
As the sun sets and darkness engulfs the city, our Happy Hour Halloween Weekend Bar Crawl kicks off, promising an evening of spooky shenanigans and thrilling adventures. This event is designed to cater to partygoers looking to embrace the Halloween spirit while enjoying the vibrant nightlife scene.
The festivities begin with an exclusive Happy Hour experience at multiple participating bars. Picture yourself stepping into each venue, greeted by a lively and immersive Halloween ambiance. Each bar will be lit up with eerie decorations, bewitching lighting, and hauntingly creative displays, setting the stage for an unforgettable night.
Dress to impress in your most striking and imaginative Halloween costumes, as the Happy Hour Halloween Weekend Bar Crawl celebrates the art of disguise and self-expression. Whether you opt for a classic monster, a wicked witch, or a pop culture-inspired ensemble, your costume will be part of the vibrant tapestry of creativity that fills the night.
As you crawl from one bar to another, you'll encounter a variety of themed drinks and spine-tingling concoctions. Sip on enchanting potions, devilishly delicious cocktails, and signature drinks specially crafted for the event. Talented bartenders will take you on a tantalizing journey, creating libations that capture the essence of the season.
The Happy Hour Halloween Weekend Bar Crawl offers more than just bar crawling. Prepare to be entertained by and lose yourself on the dance floor as haunting melodies and pulsating beats ignite your Halloween spirit. Let the music move you as you revel in the electric atmosphere and create memories that will last a lifetime.
Throughout the night, various interactive activities and games will add an extra layer of excitement. Test your skills and participate in the "Best Costume Contest" for a chance to win thrilling prizes. Immerse yourself in the Halloween spirit by engaging with fellow bar crawlers and sharing in the collective joy and laughter that fills the air.
Capture the magical moments of the Happy Hour Halloween Weekend Bar Crawl be sure to take photos of your captivating costumes, silly poses, and memorable encounters, and share them with your friends on social media tagging @pubcrawlers. Let the world witness the fantastic time you're having at this extraordinary Halloween celebration.
Gather your friends for our official Happy Hour Halloween Weekend Bar Crawl on Saturday, October 21st, 2023. This unique event promises an exhilarating combination of bar crawling, Halloween thrills, and non-stop fun. Get ready to immerse yourself in the bewitching ambiance, unleash your creativity, and create unforgettable memories with friends old and new. Don't miss out on this extraordinary Halloween experience that will leave you buzzing with excitement long after the night is over!
Time

(Saturday) 5:00 pm - 11:00 pm
Location

Various locations