Savannah Halloweekend Bar Crawl
27oct5:00 pm11:00 pmSavannah Halloweekend Bar CrawlJoin us for a spooktacular time as we crawl through Savannah's best bars during Halloweekend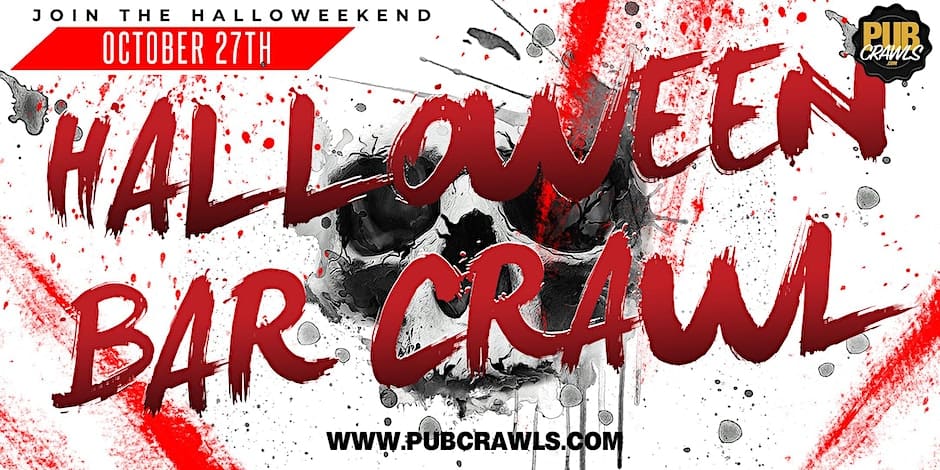 Event Details
Savannah Halloween Bar Crawl
Join us for an unforgettable Halloween weekend experience on October 27th, 2023, as we transform the night into a spine-chilling adventure filled with ghoulish delights. Get ready to immerse yourself in a bewitching bar crawling experience that promises endless fun, surprises, and wicked memories!
As darkness descends upon the city, we invite you to don your most captivating costumes and step into a world where Halloween magic comes to life. Starting in the evening, this extraordinary event will take you on a thrilling journey through the streets, as you hop from one haunted hotspot to another, each brimming with its own macabre charm.
Embrace the spirit of the season as you mingle with fellow thrill-seekers, all adorned in their finest Halloween attire. Whether you prefer the allure of a seductive vampire, the whimsy of a mischievous fairy, or the frightful transformation of a menacing creature, our bar crawling adventure welcomes all creatures of the night.
Prepare to encounter the most sinister and lively venues the city has to offer. Each participating establishment will be a haven of Halloween merriment, featuring eerie decorations, spellbinding drink specials, and wickedly delightful surprises. Quench your thirst with specially crafted potions and elixirs that will leave you spellbound, as mixologists conjure up frightfully delicious concoctions to tantalize your taste buds.
But the night doesn't stop at just drinks. Engage in thrilling games, dance to hauntingly good beats, and revel in the vibrant atmosphere that electrifies the city. Capture mesmerizing moments with your friends in our designated photo areas, immortalizing your ghoulish ensembles and unforgettable adventures.
As the moon casts an eerie glow overhead, take a moment to explore the city's dark secrets. Join guided tours that delve into the supernatural history and spine-chilling tales that linger in the shadows. Let the legends of ghosts and spirits send shivers down your spine as you uncover the mysteries that lie hidden within the city's haunted streets.
For the daring souls seeking an extra dose of adrenaline, prepare for surprises and encounters with creatures of the night along your bar crawling journey. Watch out for lurking vampires, wicked witches, and fearsome monsters who may cross your path, adding an element of fright to your night of revelry.
Tickets for this thrilling Halloweekend bar crawl experience are limited, so gather your fellow thrill-seekers and secure your spots before it's too late. Don't miss out on the opportunity to be part of the most anticipated Halloween event of the year, where unforgettable memories await.
Dare to embrace the Halloweenkend spirit, venture into the unknown, and immerse yourself in a night of bar crawling adventures that will leave you enchanted. Get ready for a Halloween event like no other on October 27th, 2023 – a night where the thrill of the unknown awaits at every turn, promising a spooktacular celebration you won't soon forget!
Time

(Friday) 5:00 pm - 11:00 pm
Location

Various locations