16dec7:30 pm10:00 pmSavannah Cabaret: Vivian & Bill's 1970s Christmas PartyAn evening of holiday music sung live in an immersive theater experience!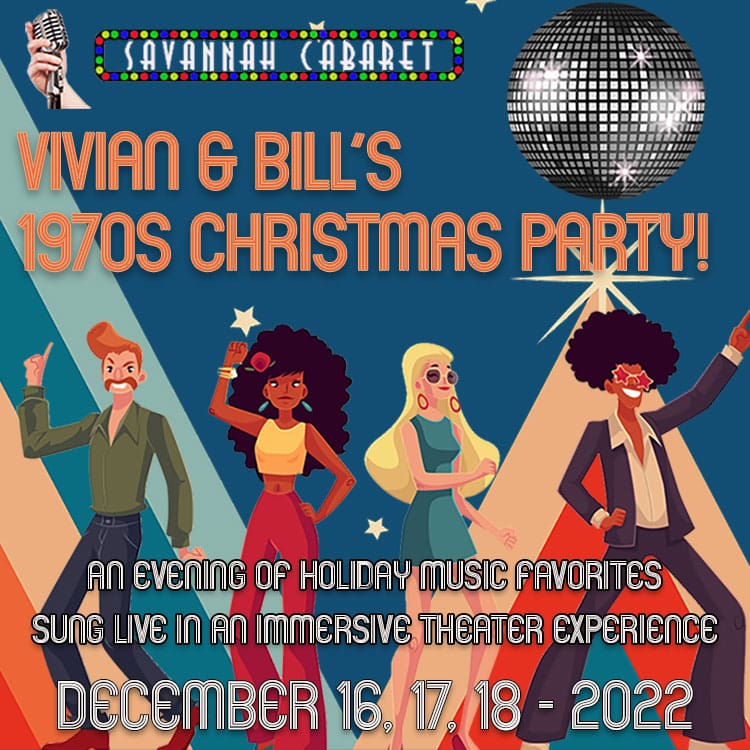 Event Details

Audiences first met Vivian and Bill Collins in their home on Morningside Lane in the 1960s, as they welcomed family, friends, and neighbors over for a quiet little Christmas party. Of course it was anything but quiet with unexpected revelations, romantic entanglements, secrets, lies, and a lot of pretending everything is fine, just fine as everyone sang beloved holiday tunes.

Now, it's 1978 and Bill and Viv have moved, but they still want to host their annual yuletide gathering, so they invite all their new neighbors including Frank and Kathleen, also known as "Boogie Man" and "Dancing Queen," a Disco obsessed couple who live a swinging lifestyle (in more ways than one); Diane and Judy, "identical" twin sisters who wear lots of polyester and appreciate anything in tight pants; and Martin and Sandy, a very traditional – and very uptight – married couple; the flamboyant bachelor neighbor from down the street Phillip; and Miss Rhonda, the head of the neighborhood watch who checks in to make sure everything is on the up-and-up.

But is it? A surprise visitor from a secretive government agency tells Viv and Bill that someone at their party is not who they are claiming to be. Who is it? And what is their secret?

Vivian, Bill, and the entire cast of oddball characters will be singing more than two dozen of the best holiday songs ever written including, "Holly, Jolly Christmas," "Sleigh Ride," "Santa Claus is Coming to Town," Winter Wonderland," "Jingle Bell Rock," "Joy to the World," "Have Yourself a Merry Little Christmas," and many more!

Three shows will be held at Club One's Bay Street Theater on Friday, Saturday, and Sunday, December 16-18 at 7:30pm (doors open at 6:30pm). Tickets are $25 for general admission and $30 for table seating.

Guests must be 21 years of age or older to attend. The theater space is on the second floor and is only accessible by stairs; no elevator is available. Songs will be performed live to pre-recorded tracks.
Time

(Friday) 7:30 pm - 10:00 pm
Organizer
Savannah Cabaretrick@rickgarman.com