New Year's Resolution ~ New Year's Themed Bar Crawl
30dec4:00 pm10:00 pmNew Year's Resolution ~ New Year's Themed Bar Crawl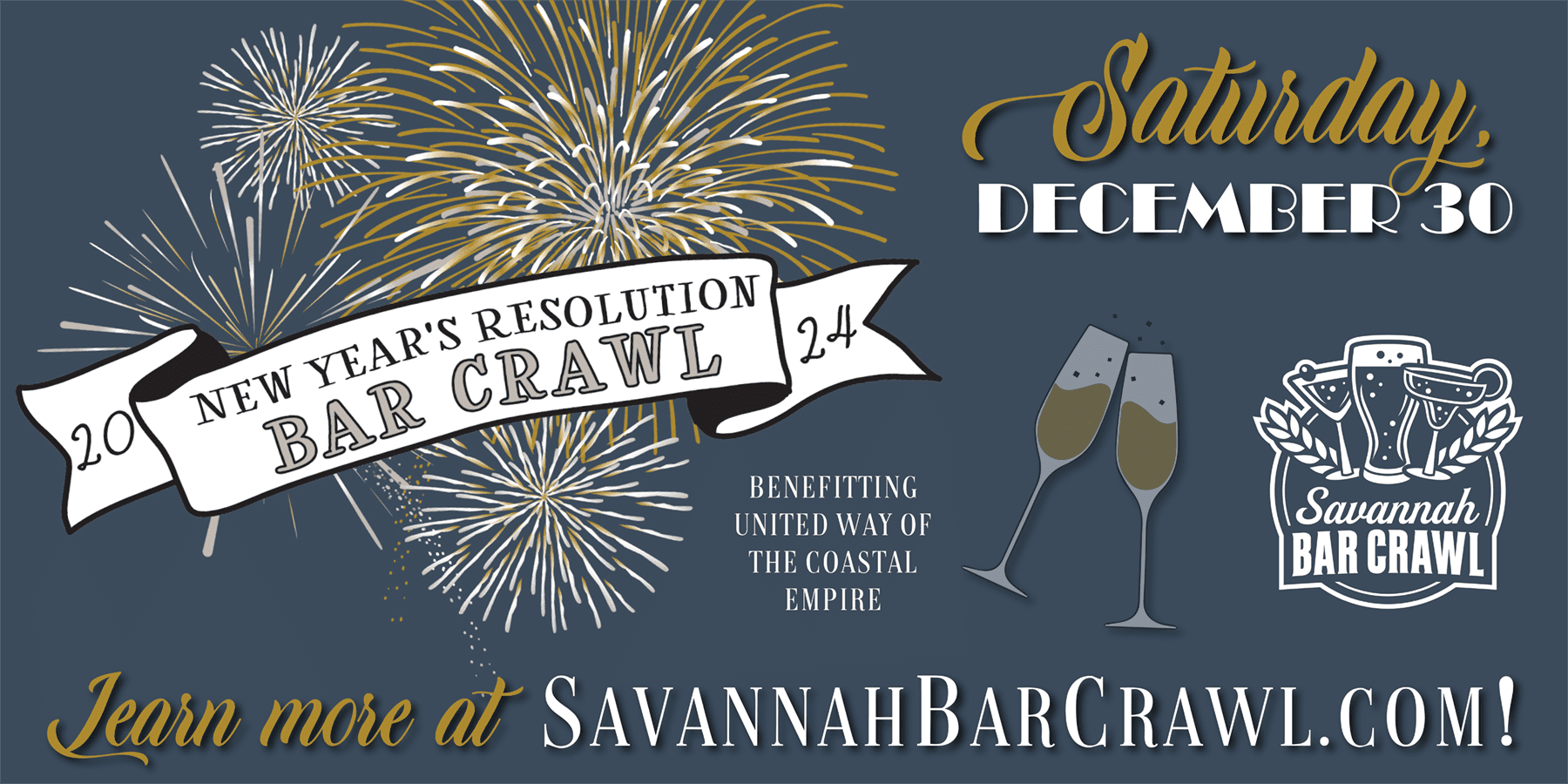 Event Details

As January approaches, so does one of the most anticipated nights of the year – New Year's Eve! Savannah is one of the most popular NYE destinations in the South! Nothing compares to the events, experiences, sights, sounds, and entertainment that Savannah provides.

As the crowds roll into the city to enjoy ringing in the New Year with their loved ones and aimlessly looking for things to do, Savannah Bar Crawl would like to invite you to join us on Saturday, December 30th for the New Year's Resolution Bar Crawl taking place in the heart of downtown from 4-10pm! Featuring some of the best bar venues that downtown Savannah has to offer, the official Savannah New Year's Resolution All Access Bar Crawl Scorecard will give every party goer a plethora of participating bar crawl locations to enjoy and visit throughout the evening. This year's event will benefit United Way of the Coastal Empire!

On Saturday December 30th, the New Year's Resolution All Access Bar Crawl Scorecard ticket holders will be able to take advantage of multiple venues offering free admission and drink specials from our sponsors all night long. It's a great package for ringing in the New Year in one of the greatest cities not just in America, but on this vast planet! You may think that you'll have to spend a fortune to have a good time on NYE – think again as our crawl tickets are only $14.99 in advance! Make sure to sign up to participate in this New Year's Resolution Crawl as we begin to set the tone for ringing in 2024! Let's welcome in the new year with hope, optimism and one hell of a good time!

HOW DOES A BAR CRAWL WORK?

Participants crawl at their own pace instead of all together in one huge group. Once crawlers pickup their scorecards at the starting bar, then they travel to all the bars listed enjoying drink specials and getting their scorecard marked at each bar. After visiting all the bars on the list, crawlers join us at the ending location for the After Party and to get the t-shirt!!

THE GOAL?

Complete your scorecard by visiting each participating bars and be one of the first 150 crawlers to receive a t-shirt. As you enter the venue, the doorman or bartender will "mark" their respective bar's section of your scorecard. You do not have to purchase a drink to have your scorecard marked.

FREE STUFF?

Savannah Bar Crawl will be giving out a variety of NYE accessories that crawlers will be able to recycle the following night at the big events on top of drink specials, swag from our sponsors (while supplies last), a scorecard/map to mark your progress, and free entry into all participating bars. Also, the first 150 participants to complete their scorecard will receive an official Bar Crawl Savannah event t-shirt.

AFTER PARTY!

After you have had your scorecard marked at all the bars, join us at TBA for the After Party from 6pm-10pm!! This is where you pickup your free and reserved t-shirts.

FREE T-SHIRTS!

We will be giving away FREE t-shirts (size S-XL) to the first 150 crawlers to join us at the After Party with a completed scorecard. XXL and XXXL will need to be purchased to guarantee in your size.

**Many of you want t-shirts, so for an extra $15 (S-XL) $17 (XXL-XXXL) you may guarantee yourself a t-shirt, in your size, to be waiting for you at the After Party! You will find this option on the registration form.

**T-SHIRT ORDERS ARE CUT OFF 1 WEEK PRIOR TO BAR CRAWL TO ENSURE ACCURATE ORDER COUNT. You will be able to purchase t-shirts at the after party for $20

**NOTE: You will only receive ONE t-shirt. This feature is to guarantee yourself a t-shirt when we run out and guarantee it will be in your size. Otherwise, you are more than welcome to try to be one of the first 150 crawlers and get a free t-shirt, size not guaranteed.

DRINK SPECIALS!: TBA

**Drinking is 100% optional! Although this is a "bar crawl", that doesn't mean you are required to drink to participate. You do not have to purchase drinks at any bar in order to participate, get your scorecard stamped and earn your event t-shirt. We love and welcome Designated Drivers to join us. If you do choose to drink, please drink responsibly.

WHEN: Saturday, December 30th, 2023
START: Packet pickup and day-of event registration at Stafford's Public House from 4-8pm.
END: After Party and t-shirts at TBA, anytime between 6pm-10pm.

PRICE:
$14.99 until October 29th
$19.99 until November 29th
$24.99 until December 29th
$29.99 on the day of the event, December 30th, 2023 from 4-8 at Stafford's Public House

WEAR?

We encourage our crawlers to wear festive NYE attire for the crawl as we will be giving out plenty of NYE accessories to go with! That's right ladies, sparkles are encouraged and welcome and for the fellas, feel free to wear anything from casual cocktail attire to your most memorable t shirt from 2023! There is no dress code however, comfortable shoes are suggested!

BRING: Your 21 ID and cash or credit card, party pants, dancing shoes, and desire to have a good time!

PARTICIPATING BARS: Stafford's Public House : Boomys : Tree House: Pour Larrys : The Escape Company Hideaway Lounge : Eclipse : Barrelhouse South : Octane : Bay Street Blues : Rogue Water

THANK YOU to our Sponsors: Southern Crown Distributing ~ Dick Broadcasting: G100, ROCK 106.9, HOT 98.3 ~ Stafford Promotions

We always hope for beautiful weather and we crawl rain or shine. No rain checks or refunds will be issued.Register now at www.SavannahBarCrawl.com.
Time

(Saturday) 4:00 pm - 10:00 pm
Location

Various locations
Organizer
brian@staffordpromotions.com
306 W Upper Factors Walk, Savannah, GA 31401