Honoring and Celebrating African Harvest Traditions - Corn Husk Creations
14oct11:00 am1:00 pmHonoring and Celebrating African Harvest Traditions - Corn Husk Creations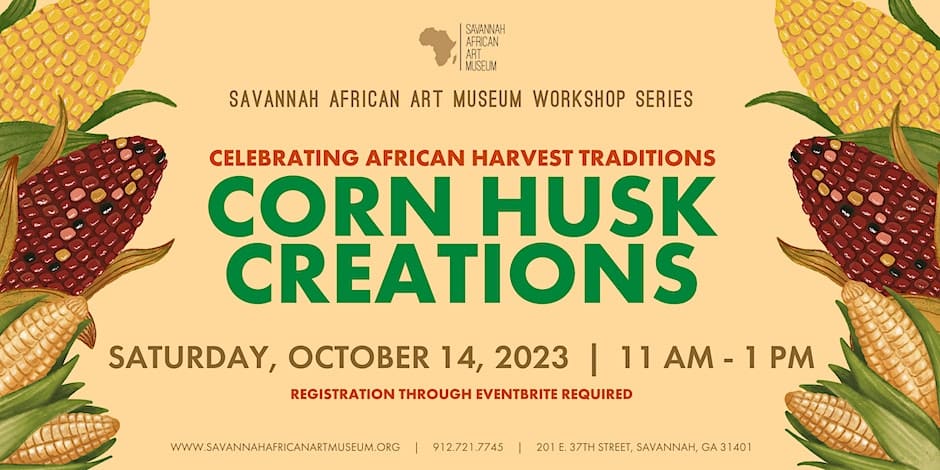 Event Details

It's the third and final installment of our "Honoring & Celebrating" workshop series when we will "Celebrate the Fall Harvest!" Harvest is a significant time of year when the fruits of the planter's labor are celebrated. Various Harvest Festivals are celebrated all over Africa. They may differ according to their various seasons and ethnic groups. Still, these celebrations are all filled with music, singing, and dancing with dancers adorned in traditional masks and costumes. During this workshop series, we will creatively celebrate the season in different ways.

Sat 10/14, 11 am -1 pm: Savannah African Art Museum, Garden (weather permitting) 201 E. 37th St.

Creating & Decorating with Corn Husk – Corn is a common symbol for the Fall Harvest and it is one of Africa's main crops. Rituals and ceremonies associated with corn often occur during planting and harvest seasons. These events mark important milestones in the agricultural cycle and are celebrated to ensure a successful crop and express gratitude for the abundance received. The corn husk can be used as a garnish, to wrap & grill fish, as a tea, for home decorations, etc. Join us as we create a home decoration from corn husk.

————

Please keep in mind that seats are limited, so you must RSVP for this event. Should you RSVP and find you cannot attend, please contact us as early as possible so we may make your seat available to someone else.

This workshop will be held in the garden/courtyard area of the Savannah African Art Museum.
Time

(Saturday) 11:00 am - 1:00 pm
Location

Savannah African Art Museum

201 E. 37th Street Savannah, GA 31401
Organizer
visit.saam@gmail.com
201 E 37th St, Savannah, GA 31401