21mar7:30 am9:30 amCelebrate Three Years of Healthy WalksHealthy Savannah AND YMCA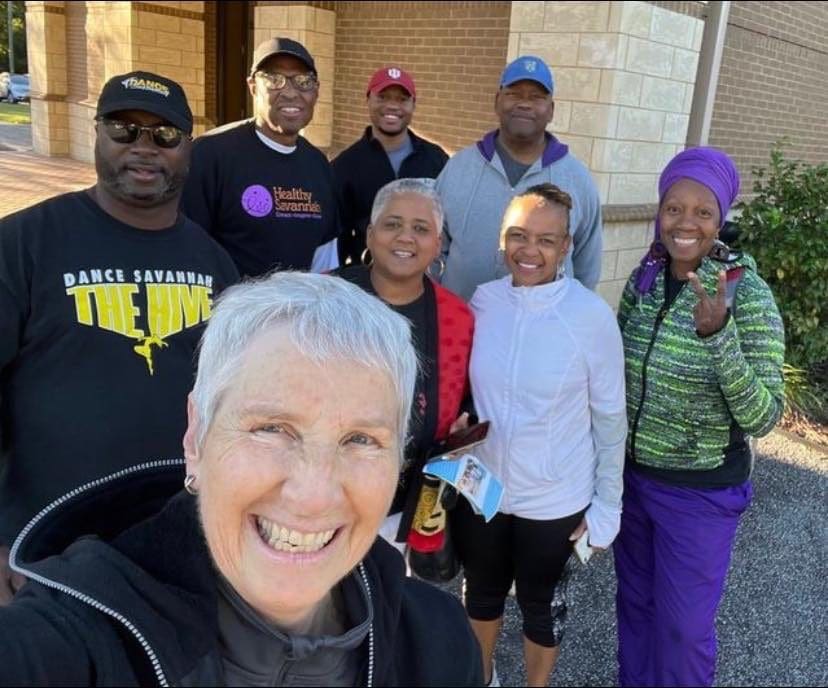 Event Details

The public is invited to walk in commemoration of World Down Syndrome Day.

For the past three years, Healthy Savannah's Paula Kreissler and Armand Turner have donned their walking shoes every Tuesday morning and led participants on Healthy Walks around Savannah and Chatham County. Now, the duo is preparing to celebrate the three-year anniversary of the grass-roots initiative that started out as a pandemic solution for people to get out and explore Savannah area trails and walkways.

On Tuesday, March 21, the public is invited to meet up with members of Healthy Savannah, the YMCA of Coastal Georgia and the Lowcountry Down Syndrome Society (LDSS) at 7:30 a.m. in the parking area at Scarborough Sports Complex, Skidaway at Bona Bella Ave. for a two-mile trek of the Truman Linear Park Trail. The trail is level and accessible, with wide, paved walkways and highly visible pedestrian crosswalks. The walk will last about an hour and end back at the starting point.

"This started as a simple way for folks to get out of the house at the start of the COVID-19 pandemic," said Turner, Physical Activity Program manager. "We thought it would be a good way for people to escape isolation and experience local trails with new friends. Since those early days, we have discovered the many benefits of taking these walks."

According to data from the Centers for Disease Control and Prevention (CDC), only 1 in 4 adults and 1 in 5 high school students fully meet physical activity guidelines for aerobic and muscle-strengthening activities.

CDC data also suggests a single bout of moderate to vigorous physical activity such as a brisk walk can provide immediate health benefits including improved sleep, less anxiety, and lowered blood pressure. Long-term benefits can include improved heart and brain health, a healthier weight, bone strength and even a lower risk for certain cancers. [https://www.cdc.gov/physicalactivity/basics/adults/health-benefits-of-physical-activity-for-adults.html]

"Throughout the pandemic, these weekly hikes have allowed us to explore activity-friendly routes to everyday destinations all around our community," said Kreissler, executive director. "We'll often also take a moment to talk about the story behind the trail or the significance of the area we're visiting."

Those planning to join the Healthy Walk on March 21 are also invited to wear two different, colorful socks to commemorate World Down Syndrome Day and raise awareness for the rights, inclusion and well-being of people with Down syndrome.

"You can't love what you don't know," said Joe Marchese, president, LDSS. "Once you get to know someone with Down syndrome, you realize that we're more alike than we are different. And it's the differences that make us all the same. Wearing the two different socks reminds me to pray for the people that I love with Down syndrome and to celebrate those differences every day."

There are already a number of options for ADA-accessible trails throughout Savannah and Chatham County, including the Truman Linear Park Trail, of which about three miles is completed from DeRenne Avenue to Lake Mayer Community Park.

"Savannahians are telling us that access to sidewalks, bike lanes and other recreation facilities is important to them," said Turner, referencing the 2022 results from a Healthy Savannah survey. "Nearly half of the respondents said they would walk or bike to work, school or shopping if there were safe paths or sidewalks."

When fully constructed, the Truman Trail will be approximately 6 miles long and will link 827 acres of existing parkland in Chatham County by connecting Lake Mayer to the 77-acre Daffin Park. Including the Daffin Park trail loop and the Lake Mayer trail loop, the total connected pathway will be approximately 9 miles.

As administrators of the five-year, $3.4 million grant called Racial and Ethnic Approaches to Community Health (REACH), Healthy Savannah and the YMCA of Coastal Georgia are committed to fostering sustainable health equity among Black residents in low-wealth neighborhoods. They do this by working to increase the availability of high-quality nutrition; promoting physical activity through creating greater access to safe places to walk, run, bike and play; encouraging stronger connections between people and the healthcare providers who serve them; and developing opportunities for greater awareness and acceptance of COVID and flu vaccines. Healthy Savannah and the "Y" are also participating in the national initiative, Active People, Healthy Nation, to help 27 million Americans become more physically active by 2027.

"We encourage you to get out and get healthy, whether you join our Healthy Walks or explore these routes on your own, using the Healthy Walks map," said Turner. "You can also watch live streams and recordings of our walks on Healthy Savannah's Facebook page."

Healthy Savannah's online Healthy Walks map (https://healthysavannah.org/healthy-walks-2021/) shows trail routes all across Savannah and Chatham County. Trail users are encouraged to share walk experiences by tagging photos and videos with #HealthyWalk and #ActivePeople.

For more information on upcoming Healthy Walks, and to watch live streams of their walks every Tuesday morning, visit the Healthy Savannah Facebook page, https://www.facebook.com/healthysav and Healthy Savannah's Instagram page at officialhltysav.
Time

(Tuesday) 7:30 am - 9:30 am
Location

Scarborough Sports Complex

Skidaway Road at, Bona Bella Ave, Savannah, GA 31406