Fall Holistic Block Party
13oct6:00 pm9:00 pmFall Holistic Block PartyMeet with over 20 Holistic Providers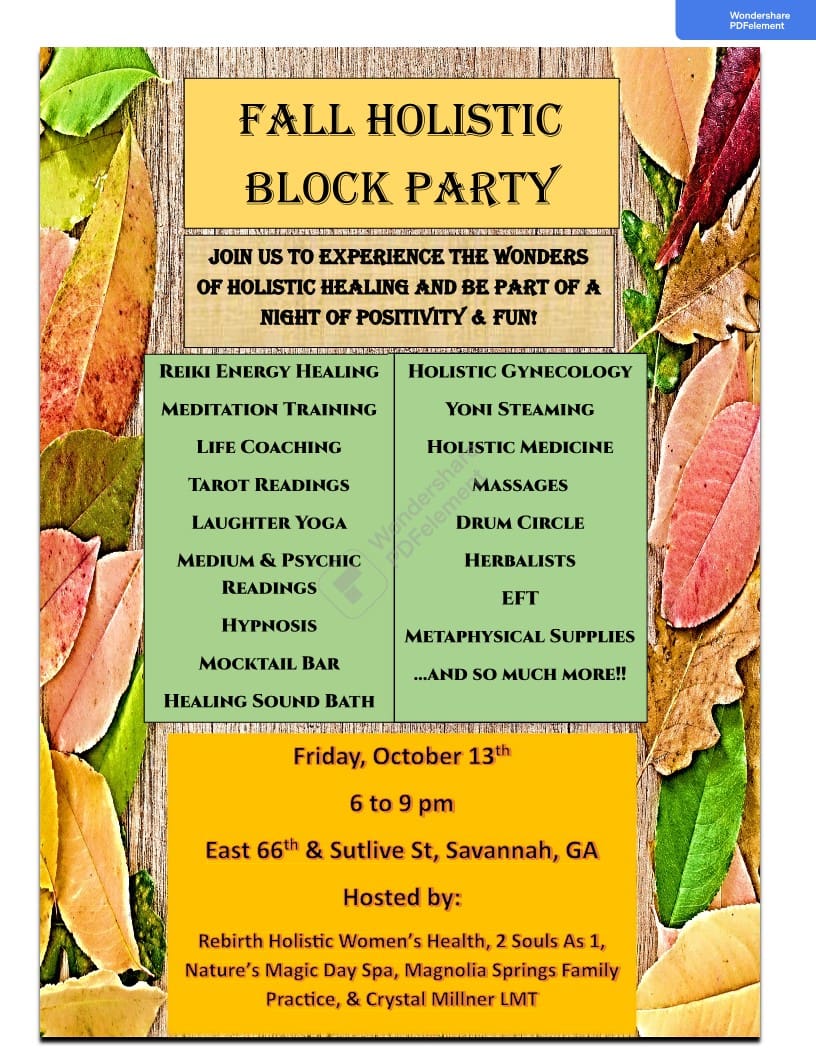 Event Details

Holistic healers throughout the Savannah Area have announced they will be getting together to host an event like no other. It will be a block party held on Friday, October 13, 2023, from 6:00-9:00 pm, at the corner of East 66th and Sutlive Streets in Savannah, GA. The event runs in conjunction with the Grand Opening of a new holistic providers' office located at 815 E. 66th St, Savannah, GA 31405 and is hosted by: Rebirth Woman's Health, 2 Souls As 1, Nature's Magic Day Spa, & Magnolia Springs Family Practice.

Many people have heard about alternative healing, but don't understand how it differs from modern medicine. This event is looking to change that. With over twenty different holistic providers available, this will be a chance to get all of your questions answered.

Going back centuries, healing was based upon a positive mindset and natural cures. The providers at this event have mastered each of their specialties to show you how you can have a more positive life by practicing natural healing. There will be many fun and interactive activities that will allow the public to participate.
Time

(Friday) 6:00 pm - 9:00 pm
Location

2 Souls As 1

815 East 66th Street, Savannah, GA 31405