Celtic Woman 20th Anniversary Concert
10mar3:00 pmCeltic Woman 20th Anniversary Concert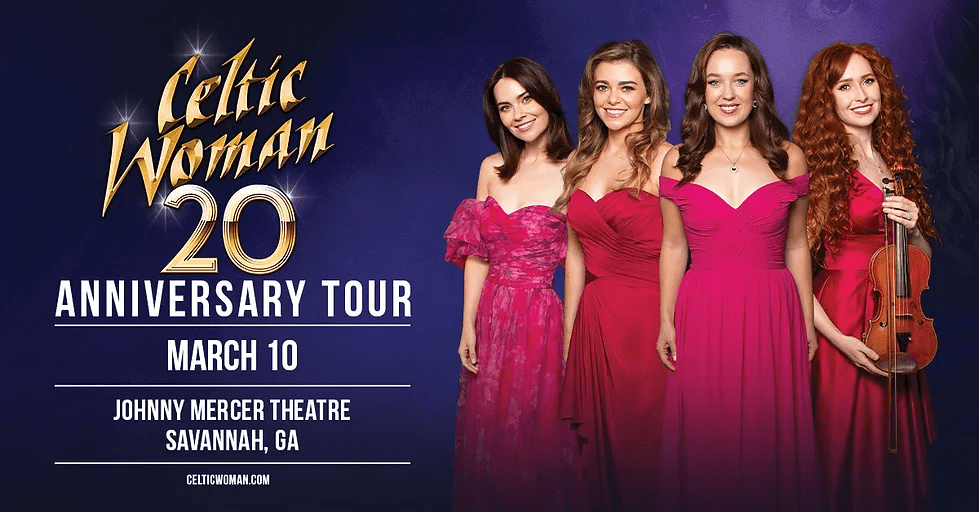 Event Details

Join us for a magical evening of music, dance, and celebration as Celtic Woman embarks on a remarkable journey through two decades of enchanting performances. In honor of their 20th anniversary, the world-renowned musical ensemble is set to grace the Johnny Mercer Theatre stage with an unforgettable concert experience that will leave you spellbound.

For the past two decades, Celtic Woman has captivated audiences worldwide with their extraordinary talent and timeless melodies. With a unique blend of traditional Irish music, contemporary songs, and breathtaking choreography, Celtic Woman has earned a special place in the hearts of music lovers of all ages.

This anniversary concert promises to be a breathtaking showcase of Celtic Woman's greatest hits, featuring stunning vocal harmonies and mesmerizing instrumental arrangements. From hauntingly beautiful ballads to rousing Celtic classics, their repertoire spans a diverse range of musical genres, ensuring a performance that will resonate with everyone in the audience.

Prepare to be transported to the rolling hills of Ireland and beyond as Celtic Woman takes you on a musical journey that transcends borders and cultures. Whether you're a longtime fan or discovering their magic for the first time, this 20th-anniversary concert is a must-see event that promises to be an evening of pure musical enchantment.

Don't miss your chance to be a part of this historic celebration. Secure your tickets now and join us at the Johnny Mercer Theatre for the Celtic Woman 20th Anniversary Concert. It's a night you'll cherish for years to come.
Location

Johnny Mercer Theatre

301 W Oglethorpe Ave, Savannah, GA 31401