06apr5:30 pmCelebration of Arthur BeaumontShips of the Sea Museum Celebrates the Official Artist of the U.S. Navy Fleet During WWII with an Exhibition, Party, and Special VIP Speaker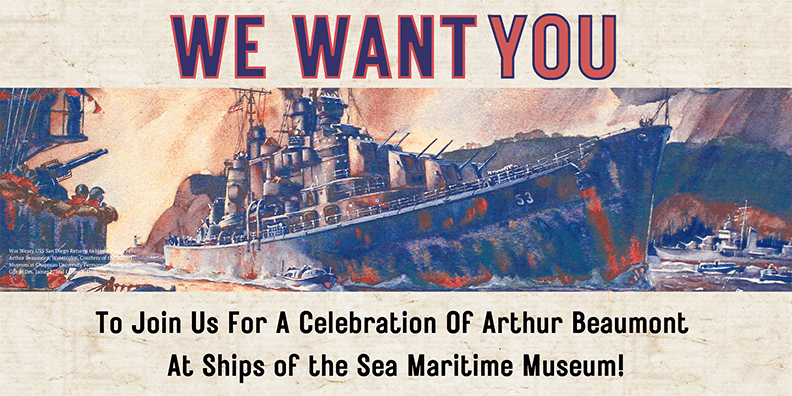 Event Details

His action-packed paintings have been recognized by three U.S. Presidents. The prestigious National Geographic Magazine commissioned his works to accompany WWII stories. William Randolph Hearst called him a friend and one of the best illustrators at Hearst Newspapers. Admiral William Leahy, the most senior active-duty military officer of WWII, appointed him the official artist of the U.S. Navy Fleet.

Now Arthur Beaumont's paintings are on display at Ships of the Sea Maritime Museum, and Arthur's son, Geoffrey Beaumont, is sharing captivating stories of his dad's daring adventures. Join us in celebrating Arthur Beaumont and his Art of the Sea!

We invite you into the museum to enjoy almost three dozen dynamic Arthur Beaumont paintings. You can purchase the collection's illustrated book and treat yourself to curated signature cocktails.

James Irvine Swinden, president of the Irvine Museum, organized Arthur Beaumont, Art of the Sea and will attend the celebration. We are honored that Ships of the Sea has been selected as one of only nine museums in the United States to mount this important exhibition.

The party begins on Thursday, April 6 at 5:30 p.m. Tickets to the event are $15 and must be ordered in advance. Geoffrey Beaumont will speak starting at 6:30 p.m. A cash bar will be available.
Location

Ships of the Sea Maritime Museum

41 Martin Luther King Jr Blvd, Savannah, GA 31401
Organizer
Ships of the Sea Maritime Museumreganeverett@shipsofthesea.org 41 Martin Luther King Jr Blvd, Savannah, GA 31401