Celebrating Kwanzaa Traditions - Creating Your Own Kinara
09dec11:00 am1:00 pmCelebrating Kwanzaa Traditions - Creating Your Own Kinara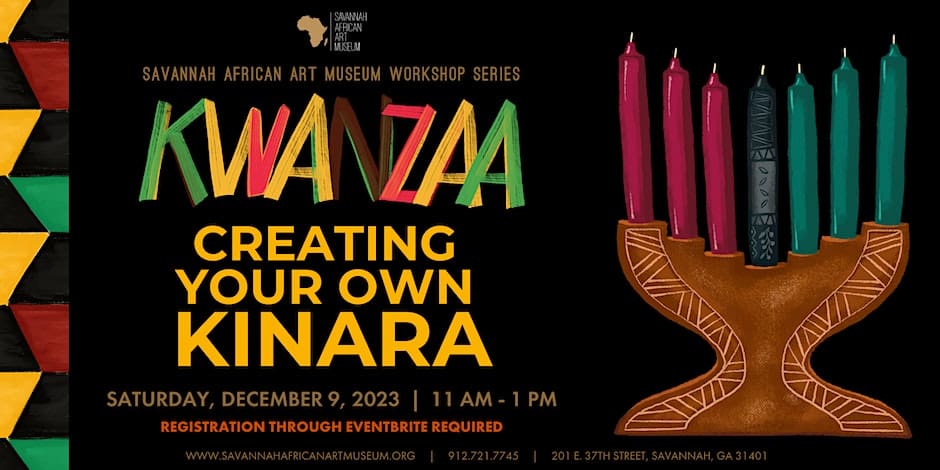 Event Details

It's the third and final installment of our "Honoring & Celebrating" workshop series when we will "Celebrate the Fall Harvest!" Harvest is a significant time of year when the fruits of the planter's labor are celebrated. Various Harvest Festivals are celebrated all over Africa. They may differ according to their various seasons and ethnic groups. Still, these celebrations are all filled with music, singing, and dancing with dancers adorned in traditional masks and costumes. During this workshop series, we will creatively celebrate the season in different ways.

Sat 12/9, 11am -1pm: Savannah African Art Museum 2nd floor-Terracotta Gallery, 201 East 37th Street

Creating a Kinara for Your Kwanzaa Celebration – A common African Harvest celebration is also called "First Fruits." It involves several days of planning to bless the newly harvested crop and purify the people prior to eating the food from the harvest. First Fruits is the basis of the African American celebration, Kwanzaa, celebrated December 26th – January 1st, created by Dr. Maulana Karenga in 1966. It is an ingathering of African Americans for celebration of their heritage and their achievements, reverence for the Creator, creation, commemoration of the past, recommitment to cultural ideals, and celebration of the good. Join us as we share more about the celebration, the African symbols, and their origin, create and decorate our own Kinara – the candle holder for the 7 candles symbolizing a Kwanzaa principle, to be lit each day of the celebration.

–

Please keep in mind that seats are limited, so you must RSVP for this event. Should you RSVP and find you cannot attend, please contact us as early as possible so we may make your seat available to someone else.

This workshop will be held in the garden/courtyard area of the Savannah African Art Museum.
Time

(Saturday) 11:00 am - 1:00 pm
Location

Savannah African Art Museum

201 E. 37th Street Savannah, GA 31401
Organizer
visit.saam@gmail.com
201 E 37th St, Savannah, GA 31401