Book signing and talk with Omkari L. Williams, author of "Micro Activism"
04nov6:30 pm8:00 pmBook signing and talk with Omkari L. Williams, author of "Micro Activism"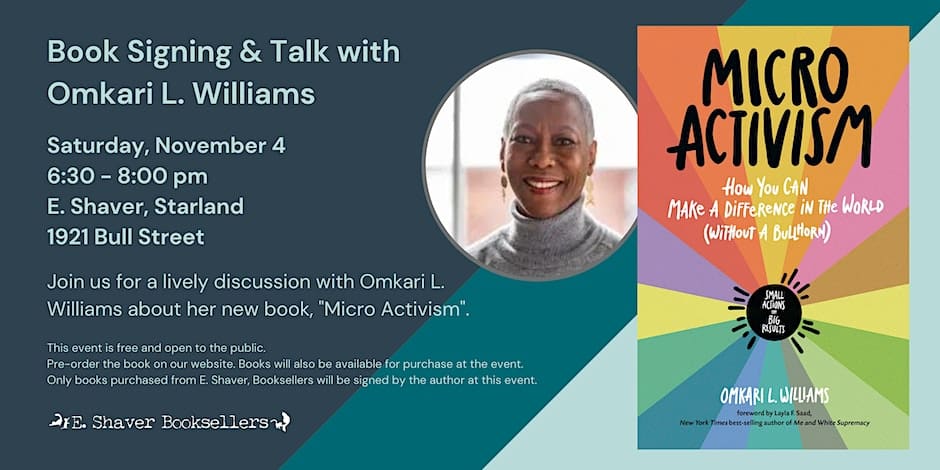 Event Details

"Micro Activism: How You Can Make a Difference in the World without a Bullhorn" by Omkari L. Williams.

Release date: October 24, 2023

Pre-order: https://www.eshaverbooks.com/book/9781635866889

~

Everyone can be an activist with the guidance of Omkari L. Williams, a life coach who guides readers in identifying their "activist archetype" and mapping a personal action plan for engaging in small, change-making activities with potentially big impacts.

In this age of social justice, those who don't necessarily want to lead a movement or join a protest march are left wondering, "How can I make an impact?" In "Micro Activism", former political consultant turned activism coach Omkari L. Williams shares her expertise in empowering introverts and highly sensitive people to help each of us, no matter our temperament, find our most satisfying and effective activist role. Using Williams's Activist Archetype tool, readers discover their unique strengths and use this to develop a personal strategy.

~

Books will also be available for purchase at the event.

Only books purchased from E. Shaver, Booksellers will be signed by the author at this event.

This is a free event that will take place at our E. Shaver, Starland location at 1921 Bull Street.

~

Omkari L. Williams has worked as a political consultant and life coach for 30 years, with an emphasis on supporting activists who identify as introverted or highly sensitive. As a queer Black woman, she shares her own story of challenging injustice to empower others in making a difference in their communities. She leads workshops and trainings and is host of the popular podcast, Stepping into Truth, where she interviews people doing activism in their own unique ways. To help people identify their own way of activism she created the Activist Archetype Quiz ©. Williams was born and raised in Manhattan and now lives in western Massachusetts. She can be found at https://www.omkariwilliams.com/.
Time

(Saturday) 6:30 pm - 8:00 pm
Location

E. Shaver, Starland

1921 Bull Street, Savannah, GA 31401